Pre-wedding photography
A pre-wedding photoshoot isn't famous with every couple for no reason, in fact, this is the only time when a couple gets to live their fantasy before all the wedding madness kicks in. A pre-wedding photoshoot is intimate, personal and the most enjoyable part for the bride and groom and if you choose 35mmCandids, it'll be the most memorable too. At 35mmCandids, we believe in bringing your dreams to life and we try to weave a story that not only speaks about your love for each other but the one that lets you live your fantasy through this shoot. So, think of a typical Yashraj style pre-wedding shoot or a more funky one, we're game. Now, wait no more and take out your bike and those cool sunglasses 'cause we're going to give you the coolest yet most romantic pre-wedding photoshoot ever!
Reasons why a pre-wedding shoot with 35mmCandids is a must.....
Best in the business Pre-wedding Photographers
35mmCandids offers you only the best pre-wedding photography experience anywhere in the world. Our supremely talented team of Pre-Wedding Photographers, will have your back at every step of the way. Our team of photographers will guide you from poses to props, we also specialize in storyboarding and thematic pre wedding photography. We'll storyboard your entire journey before the shoot so you know exactly what to expect on the day of the photoshoot and only have fun while you're at it.
Best of the pre-wedding locations
If you have a theme, we have a perfect location for that. We not only suggest locations but our team of photographers are dedicated to scout only the most dreamiest of the locations for your once in a lifetime, pre-wedding photoshoot. From stranded beaches to lush mountains, we always have a hidden gem up our sleeves. Also, if you're looking at a destination pre-wedding shoot then you're just in the right hands. Our photographers have worked on some of the most viral pre-wedding photoshoots and we'll make sure your pre-wedding photoshoot beats them all.
The Best Art and Props Team
As we said, we will leave no stone unturned for your pre-wedding photoshoot to be the most awe-inspiring photoshoot ever, and your wedding teaser will be no less than a movie trailer. So, if you're inspired by grand sets and if YRF movies or SLB movies are more of your thing then swipe right on us. Our production team delivers and caters to all kinds of moods and themes be it a simple candid photoshoot in your kitchen or a grand photoshoot in the outdoors, our team is equipped with all the right gears to make your pre-wedding dream a reality.
FAQ'S
What is a Pre-Wedding Shoot?
Pre-wedding photoshoots are the shoots where the couple get their pictures clicked before their wedding at beautiful destinations, capturing the essence of their love and announce to the world to 'Save the date'. Though it was initially started by people who wanted to share their beautiful pictures on social media, now the concept is changing (as) it has become an integral part of the wedding ritual. All thanks to social websites like Pinterest and Instagram which are flooded with amazing pictures of Pre-wedding photoshoots at different destinations.
Which are the best locations for pre wedding shoots?
Here are some of our favourite picks, Goa, Udaipur, Jodhpur, Jaisalmer, Leh-Ladakh, the state of Himachal Pradesh also has some awe-inspiring untouched natural beauty perfect for a romantic Pre-Wedding Photoshoot.
How to select the location for a pre wedding photoshoot?
It depends on multiple things, your favourite location, the mood of the pre-wedding shoot, the proximity of the place, climate of the destination during the shoot, time duration, and your will to splurge on your pre-wedding photoshoot.
How many photos are provided in a pre wedding shoot?
We provide around 50 to 100 pre-wedding photos, as we storyboard the entire shoot and create a story best suited for the theme you choose also considering various factors like location, outfit, season, etc.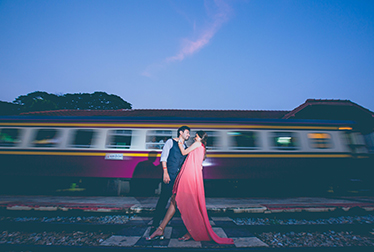 Ishaan and Ritika, Hua Hin, Thailand
Witness Ishaan and Ritika's extravagant celebration of love shot beautifully in Hua Hin, Thailand. Ishaan and Ritika's wedding video shot by WeddingSutra Favorite 35mmCandids is...
#SayShawaShawa, St. Regis, Mumbai
Beautiful story of Karan and Henal in the cityofdreams! we caught them for a few shots right before her mendhi at the lovely race course,...
Dvkibiwi
#DvKiBiwi Dhairya and Ayesha's was a Gujarati-Sindhi wedding and had to have the best of both traditions. They have a unique love story where, they...