When it comes to pre-wedding photoshoots, all that matters is that the photos catch the eyes of your friends and family. While the sights and scenery that a destination has to offer hold a huge stake in this, the way the stars, you lovely couples, fit into the picture is undoubtedly as important.
What's important to keep in mind here, is the fact that pre-wedding photoshoots are about emotions and not about fancy locations, or your flowing dress, or expensive cars. You aren't shooting for a cover of the next hip-hop album, are you? But you certainly should not discount the fact that what you wear, how it color coordinates and how well you compliment your partner's dress make for pictures worth framing.
Deciding what to wear on your pre-wedding photoshoot can be more complicated than rocket-science. It is simply difficult to come to a conclusion, as to if the couple should wear matching outfits, or should you go with outfits that match your personalities or just go with outfits that are casual or should it be a time turner.
The dresses and suits you put on can make a huge difference in the way your photos turn out, and your outfits should complement the scenes of your shoot location just as much as the background should paint the best picture for your wedding photos.
Below are some tips for picking your gowns and suits depending on the type of location for the best effects in your photos.
Wear Something That Flows
A flowy dress, a dupatta that catches the wind, and anything that moves and catches the wind as you walk is perfect for photos.
Keep it Elegant!
If you are confused about what to wear, pick the most classy and timeless clothes you own- clothes that will not look dated even when you look at the photos 20 years from now. The cold shoulder is in right now, but you don't want someone saying "OMG! That's so 2017 when they look at your photo!"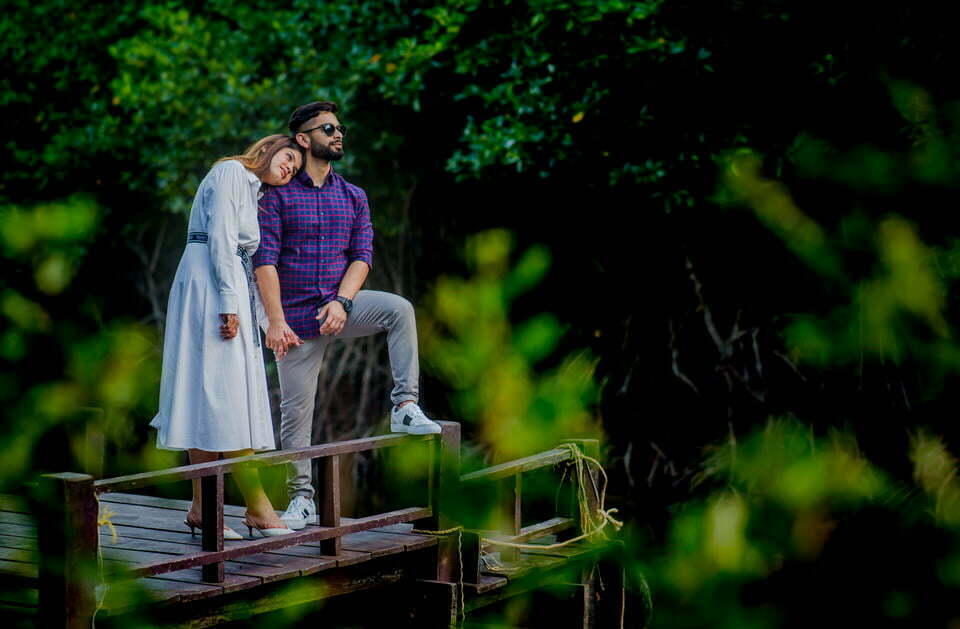 Don't be 'Band-mates'
Both of you will have to discuss what you're wearing! There has to be some sort of coordination between the clothes- be it in terms of theme, color, or even the style. You can go for a contrasting or complementing look, but just make sure it goes together! And please, no matchy-matchy!!!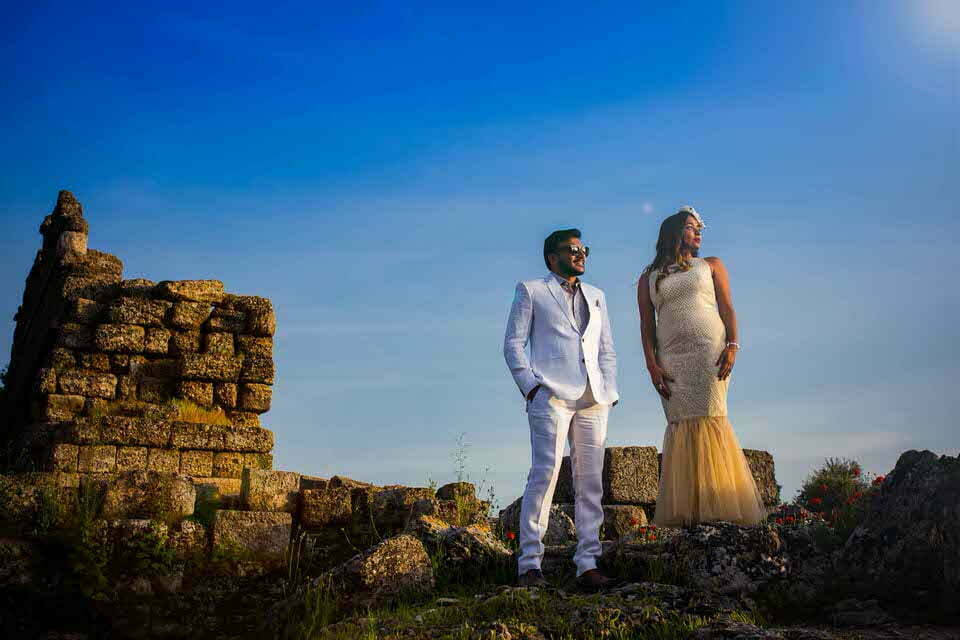 Feel Free to Experiment
Choose complementary colors- like red and aqua, shades of beige with pops of coral and navy, mint and pink, or even grey and yellow. Workaround a nice pleasing color combination. If you want to wear white, black or grey, make sure to add some color to the look somewhere! Adding a pop of color to the shoot- whether, through clothes, accessories or props is always a good idea and can make the photos stand out!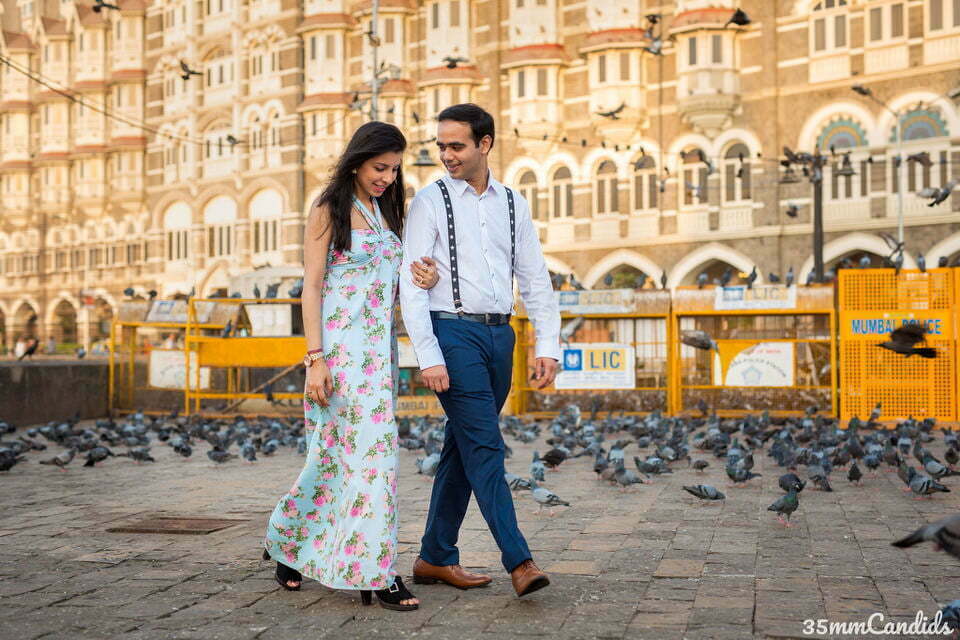 You Can Never Go Wrong With Solid Colors and Simple Patterns
Solid colors and simple patterns photograph well. Big, bold patterns can be very distracting in photographs. You can wear something with big bold patterns, but just make sure it's only one of you.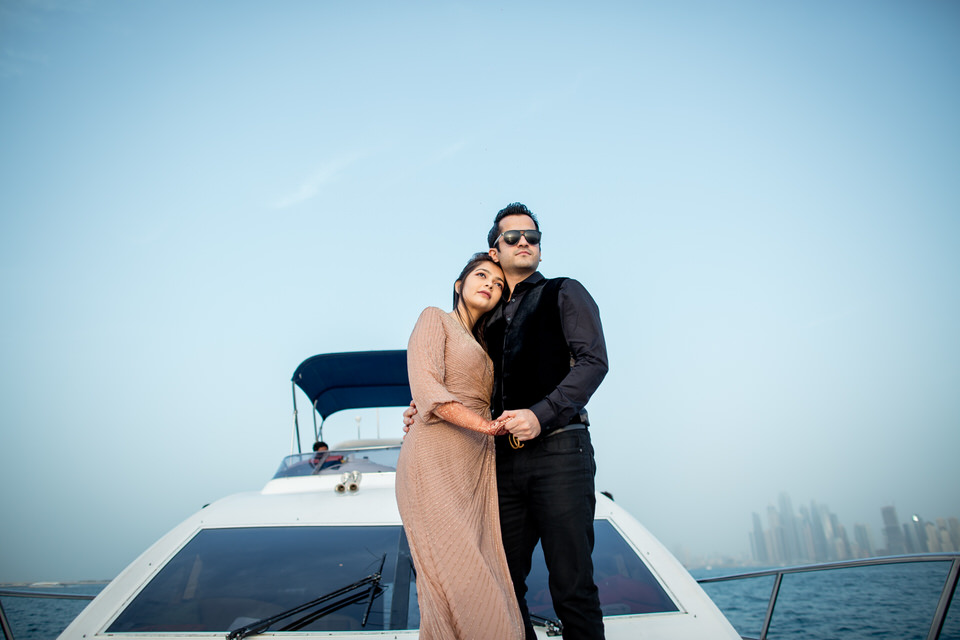 You SHOULD Take Your Photographer's Advice
Hire a good stylist if you can afford to. It will pay off in the photos. If you can't, just remember it is your photographer and not your brother or sister who can help you out with this. Make sure to discuss your outfit with your photog before-hand.
Wear What You Feel Comfortable and Confident In
You can look amazing in that bodycon dress- but if you end up holding your tummy in or being conscious most of the time, it will show in the photos! So make sure the clothes you choose are not only stylish but also super comfortable so that you can be mentally and physically relaxed during the shoot.
What's Your Location? Don't Go All YOLO with Your Dress.
Choose clothes that go with the location you have chosen. Clothes that are too formal can look awkward in a casual place and vice versa. Make sure they match.
Light Accessories. Too Much Bling Leads to Lens Flare.
Look how the simple beanie adds so much warmth to the photo! Sunglasses also look good, especially for a day pre-wedding shoot, so make sure to carry a pair that suits your face shape alone. Reflectors photograph better but have them only as a second pair, 'coz they're in vogue right now, and might not be later. Skip wearing loads of jewelry, and keep it a bit simple. Statement pieces work better than wearing loads of jewelry.
Leave the Wallet and Handbag at Home
A lot of couples don't realize this, but wallets and bags get in the way of snuggling and being comfortable. For guys it may give a bulge somewhere that's so not needed!
Hopefully with these tips, you will be better equipped at deciding on the styles and colors of your gowns and suits for your wedding photoshoot.
A final tip for gown and suit selection is to choose one that you feel comfortable in, or that goes well with your personality. Confidence is another key to creating beautiful photos!