Haldi Photography with 35mmCandids
If you're inspired by Yeh Jawani Hai Deewani's Kabira Style of haldi and want some of the most amazing pictures with your friends and family then you've landed on the right page. We not only are a pro when it comes to weddings but are basically experts at filmy weddings. At 35mmCandids, every occasion is special and haldi photography is no exception. Haldi photography is the perfect way to share memories with loved ones and friends. So think no more and let us make your fun-filled haldi moments memorable with just the most beautiful candids of the time when your brother decides to rub the entire haldi paste on your face or when your friends surprise you with an Ice-Bucket challenge on that day. Trust us, we're prepared for it all. So if that's the kind of fun you're looking for we'd say – We're a match made in Heaven!
How to get Fun Haldi Pictures - 35mmCandids style!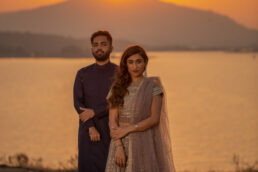 Go Eco-Friendly
If you don't want to go overboard with your decor, a pretty eco-friendly haldi decor is all you need to spice up your haldi photos. Decorate your house with Banana leaves, Genda Phool (That would go perfectly with your haldi theme), call for some rags or old sarees to add in some layer and depth to your decor and don't forget to welcome your guests with a beautiful rangoli.

Haldi ceremony
Haldi and Sangeet are two of the most fun Indian pre-wedding functions. One lets you get messy and paint the town yellow, the other lets you dance and sing the night away. So, here's how you can make your Haldi Photographs fun and totally insta-worthy even if you're on a budget.

Haldi on your Terrace
Haldi, as said earlier, is a very private pre-wedding ceremony only consisting of the closest of the friends and family and what better place than at your own house or terrace. Doesn't matter if you have a building terrace or a stand-alone house or a bungalow, a terrace haldi will be perfect for everyone. This you get ample space to accommodate your guest and bask in the goodness of the natural lights to get the best haldi photos.

Holi Themed Haldi
When it comes to having fun, there's no stopping for us, throw a Holi themed haldi party and have a colour blast. This way, Haldi will not only be fun for the bride and the groom but for all the guests attending. You either play it with colours or even with flower petals. The choice is yours, either way, you're going to have a memory for a lifetime and candid pictures that you'd fall in love with.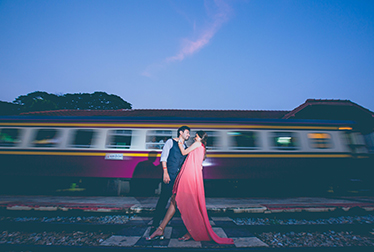 Ishaan and Ritika, Hua Hin, Thailand
Witness Ishaan and Ritika's extravagant celebration of love shot beautifully in Hua Hin, Thailand. Ishaan and Ritika's wedding video shot by WeddingSutra Favorite 35mmCandids is...
#SayShawaShawa, St. Regis, Mumbai
Beautiful story of Karan and Henal in the cityofdreams! we caught them for a few shots right before her mendhi at the lovely race course,...
Dvkibiwi
#DvKiBiwi Dhairya and Ayesha's was a Gujarati-Sindhi wedding and had to have the best of both traditions. They have a unique love story where, they...
FAQ'S
What is Haldi Photography?
Haldi photography means to capture the most precious moments during your haldi ceremony. When you're amidst the people you mean the most to you, when you're surrounded by your family and friends, a ceremony done right before your wedding that is filled with love, adoration and blessings. 35mmCandids captures the very essence of that moment and gives you a bouquet of memories of your Haldi Day.
How much does Haldi Photography cost?
When you go for a full wedding photography package with 35mmCandids, Haldi Photography cost is covered in that.
How many photos are provided in a Haldi Photoshoot?
Depending on the length of the event and number of photographers in your package we'll be providing you with as many beautiful pictures as possible. However, generally we provide around 200-400 images.
Is video also included in the Haldi Photography?
If your package includes videography then you'll get videos for your Haldi, else it'll include only photography services.