Bridal Photoshoot with 35mmCandids
If Jab We Met's Geet is your alter ego and agar bachpan se hi aapko shaadi karne ka bada shauk hai by god toh bachpan se humein bhi best bridal shots capture karne ka bada shauk hai by god! So, without any further ado let's get started on the most pinterest-gramworthy photo shoot EVER!. From a royal bridal photoshoot to a modern bridal shoot we specialize in all. We not only shoot the best bridal photos but also make sure that they get you featured on all the big insta wedding pages. So get your 'Din Shagna Da' playlist ready and let's get rolling.

3 Tips for the best Bridal PhotoShoot by 35mmCandids
1. Create A Mood Board
A mood board is very important when it comes to a photoshoot. A moodboard sets the tone right not just for the colour palette to use but also for the look you want to try, along with the decor for the photoshoot and the theme. Mood boards not only helps you but also the team of photographers and videographers you work with to help you achieve your expected results.
2. Recce the Venue
Now that you've shortlisted the theme for the shoot, go ahead and recce the shoot venue beforehand. This not only helps you relax and be comfortable on the day of your bridal shoot but also helps your team of photographers and videographers carry the necessary equipment along to get you the perfect shot to match your mood board expectations.
3. Shortlist and shop for the props
A lot goes into making a good photo; lights, right camera angle, perfect setup, props and YOU of course. To make sure your shoots are larger than life or are a part of some Sanjay leela bhansali film, it is very important you shortlist and shop for your props before the D-Day. Props like Roses and rose petals, Phoolon ki chaadhar, Bejeweled sandals, Slate and chalk, etc are a must for your bridal pictures to stand out.
Well this is not it, for more tips on shooting the best bridal pictures contact us, kyunki picture abhi baaki hai mere dost!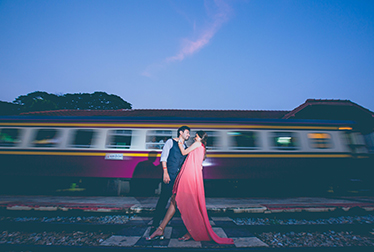 Ishaan and Ritika, Hua Hin, Thailand
Witness Ishaan and Ritika's extravagant celebration of love shot beautifully in Hua Hin, Thailand. Ishaan and Ritika's wedding video shot by WeddingSutra Favorite 35mmCandids is...
#SayShawaShawa, St. Regis, Mumbai
Beautiful story of Karan and Henal in the cityofdreams! we caught them for a few shots right before her mendhi at the lovely race course,...
Dvkibiwi
#DvKiBiwi Dhairya and Ayesha's was a Gujarati-Sindhi wedding and had to have the best of both traditions. They have a unique love story where, they...
FAQ'S
What is a Bridal Photoshoot?
In our experience Bridal photoshoot is one of the most asked for photoshoot, this is the time our lovely brides get the opportunity to have their solo pictures clicked. It includes the bridal preps, like hairdos, makeup, outfit photography and jewelry photography. This can be a fun shoot for the bride since she's all dressed up and ready to shoot. A combination of excellent photography skills and a beautiful bride is what you need for a great set of timeless photographs.
Are bridal portraits worth it?
We'd like to answer this in one word only, Absolutely! If you're not sure about it, click here and check out some of the most breathtakingly beautiful bridal portraits by 35mmCandids.
How long do bridal photos take?
Once the bride is ready in all her glory, 35mmCandids gives you the best of Bridal pictures in just about 45 mins to an hour.
How do you pose a bride?
We believe in capturing the bride in all her natural & nonchalant glory. So, it's not much of a 'posing and clicking' type of a session, in fact just like acting it's more of an 'action and reaction' kind of a session.