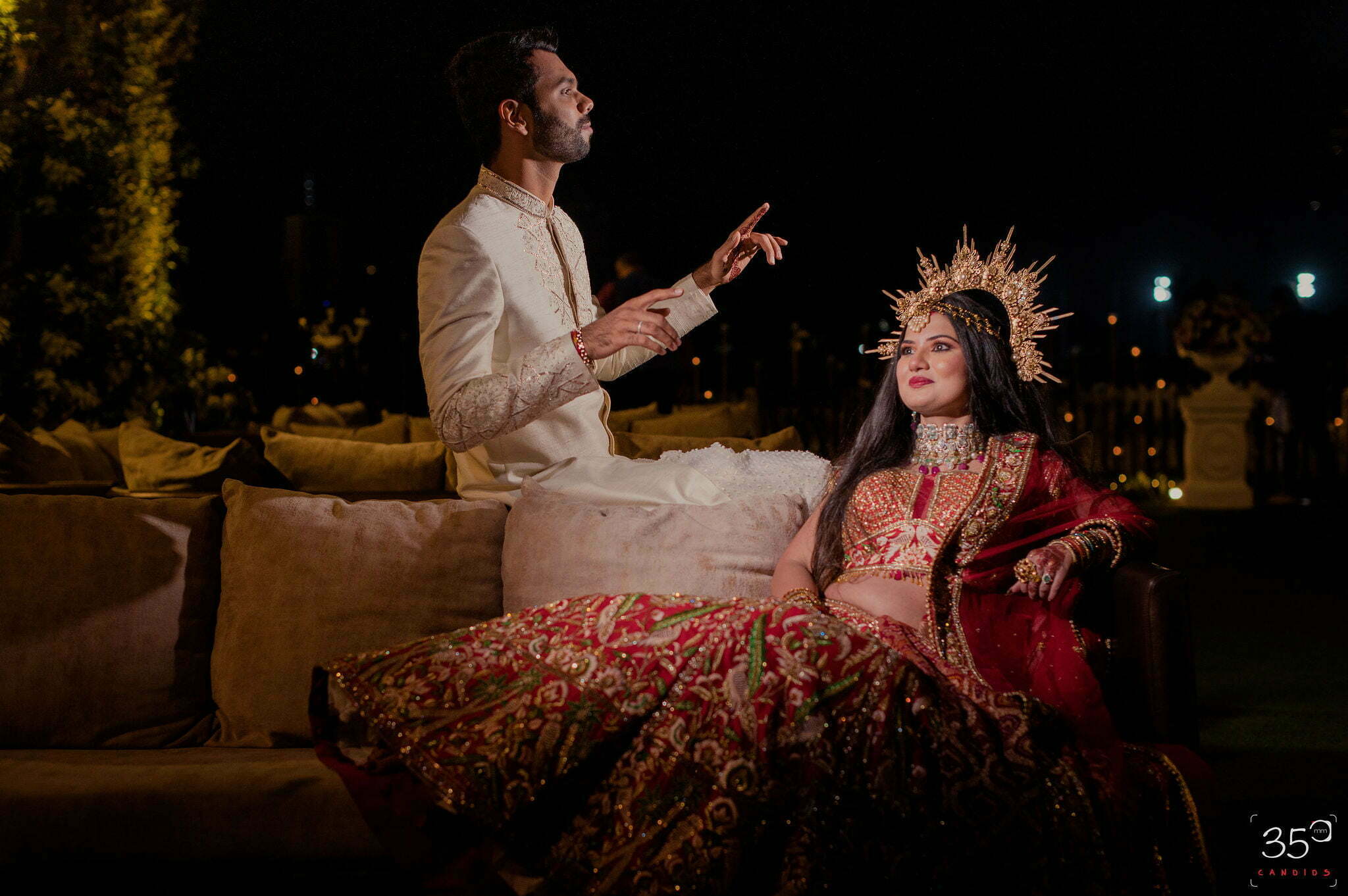 With her twinkling eyes,
She killed everybody in town,
She appeared no less than a Queen,
While wearing her wedding crown,
That's exactly what our Bride is all about!
Majestic, Classic, Regal, Euphoric! That's what Radhika & Rishab's wedding bash looked & felt like!
All it took was two meetings to decide that they loved each other's company & that's why it's rightly said, best love is unexpected, you meet them by fate & it's an instant connection!
This is the story of their phenomenal wedding bash which was an epic celebration of these two incredible people coming together. #RishGotRad
Episode 1: ProposalConversation, trips, gigs and a dreamy proposal by Rishab in Maldives made them realize they wanted to spend the rest of their lives with each other. And as they say the rest is history!
Episode 2: Pre-wedding Bash
The venue for the pre-wedding at Karjat was picturesque & absolutely serene. It was the most perfect location for our quirky couple for their squid game themed boho fun pool party. As our couple entered amidst a riot of colors in the background, our groom was dressed in smart casual shorts & pink shirt while our beautiful bride wore a bold & elegant evil eye sequined bikini paired with tassel skirt along with a white veil.
And did she look dreamy??? Oh! Yes!!!
This exemplary pool party was followed by an aesthetic Masquerade Ball eve. A toast with a champagne tower, mysterious squid masks for the guests, spectacular dance floor, and the pre-wedding party just got surreal. The night of #RishiGotRad was enveloped with love, fun, frolic and dancing to Afrotech music by Amaya. It was one of the most entertaining nights we had ever witnessed!
---
---
Episode 3: The Wedding Day
The glamour of #RishiGotRad's wedding cannot be described in words. Their wedding at The Gallops with a wooden mandap & minimalistic décor with beautiful flowers and Victorian chandeliers was absolutely legendary. This Wedding broke a lot of stereotypes right from getting female pandits to officiate their wedding, to our bride adorning a Czech Crown instead of wearing a Mangtikka & Dupatta. We must say with our bride's choice of headgear she is just setting some bold & trendy fashion statements.
As she says, I will do what Queens do, wear a Crown & marry the King of my dreams. Our bride certainly walked towards her King with the most spectacular Czech crown and a dazzling smile.
When two quirky, techno music lovers, travel junkies like them decide on their forever, the wedding bash is going to be eccentric.
It was an absolute delight for the team of 35mm Candids to be part of their story & capture their incredible moments.
Wedding Planner : Zest Events & Weddings
Team : Aakash Berde, Umesh Mittu, Swapnil Kolambe, Aakash Tiwari, Abhishek Verma, Shiva K.
Blog written by : Trisha Parabiya Pujara
Jewellery : batukbhaisonsjewellers
HMU : Meerra Mevawala
Decor : Mokshiva Entertainment & Dream Design Events
Venue : Gallops Mumbai & Forest Club, Karjat